Medical Vacuum Systems - Centralized
Medical Vacuum Systems – Centralized
Hospitals and medical institutions everywhere demand high levels of reliability from the equipment used, medical vacuum systems are no exception. Medical suction/ vacuum is as indispensable as medical air in a medical gas pipeline system.
The source equipment of these systems is governed by quality and reliability guidelines of ISO, HTM, NFPA, US, European Pharmacopeia, etc.
Built on its reputation for reliability and 200+ Installations in the industry, we offer comprehensive solutions for medical suction/ vacuum system.
These vacuum pumps are dry, reciprocating type pumps known for their simple design, unmatched performance and long term reliability. They create round-the-clock medical vacuum for all your medical and surgical applications.
All these packages are delivered with a hassle-free concept to commissioning approach and combines affordability, long life and effective after-sales-service support.
Dint-Tech medical vacuum systems are the most widely installed systems across hospitals and medical institutions in India.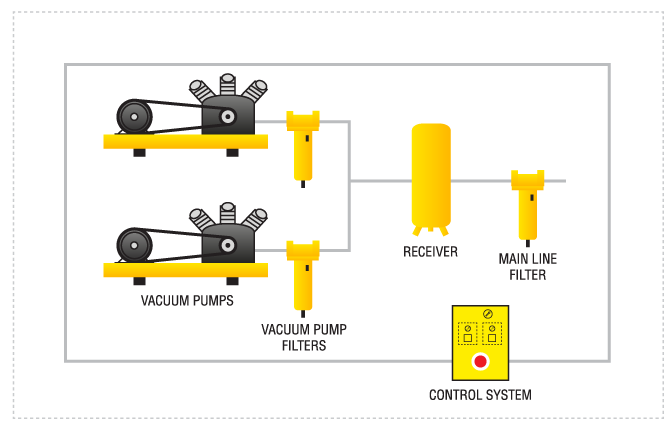 This is intended to provide general information on the layout of a typical Medical Vacuum / Suction Systems. Please get in touch with us with your specific requirement and we shall send you over Detailed Technical Specifications of the system. Meanwhile, please click on the product images above to visit individual Product Pages.
S.N.
Model
Displacement
Motor
LPM
CFM
HP
kW
1
M Vac – 2
612
21.6
2
1.5
2
M Vac – 3
980
34.6
3
2.2
3
M Vac – 5
1699
60
5
3.7
4
M Vac – 7.5
3115
110
7.5
5.5
5
M Vac – 10
4236
149.6
10
7.5
Constant Vacuum Output: 450 mm, 17.5" of Hg, 600 mbar.
System capacities are shown as per NFPA - reserve pump on standby.
Standard Receiver Capacities: 150, 300, 500, 1,000, 2,000, 3,000 Liters and so on.
Proven design – dry, reciprocating, lubricated vacuum pumps.
Systems and installations adhering to NFPA 99, HTM 20 22, HTM 02-01, ISO 7396 – 1, NABH and other medical vacuum standards.
Modular design – easy scalability.
Redundant system with backup/ standby of every critical component in the system – no need to shut down the system during maintenance.
Vacuum based control system for unattended and automatic operation.
Control system takes care of constant monitoring of various parameters of the system to prevent breakdown.
All components are of air cooled design – no need for cooling water, line, towers, chillers, etc.
Vacuum pumps and central suction systems for Medical Gas Pipeline Systems (MGPS), particularly:
Medical vacuum, suction
Surgical vacuum, suction
Laboratory vacuum, suction
Airway suctioning
Operative procedure suctioning
Removal of excess blood during surgery
Wound drainage
Assisted wound closure
Chest and lung drainage
Collection of bodily fluids
Gastrointestinal decompression
Gastric emptying
Cleaning endotracheal tubes
Otorhinolaryngology treatments
Compression therapies
Radiotherapy, radiosurgery and radio-pharmacy.
Liposuction, lipoplasty
Dental vacuum
Vacuum Insulated Evaporator VIE
Vacuum autoclaves
Please get in touch with us with your specific requirement and we shall send you over Detailed Technical Specifications of the system.