Medical Air Systems - Centralized
Medical Air Systems – Centralized
The critical field of patient care requires ultra-clean, purified, medical air delivered to operating theaters and hospital beds with absolute reliability.
Considering the severity of the application, the source equipment of medical air must meet specific quality and reliability guidelines as laid down by international quality standards such as ISO, HTM, NFPA, US, European Pharmacopeia, etc.
Built on its reputation for reliability and 200+ installations in the industry, Dint-Tech offers comprehensive solutions for compressed air systems for hospitals and medical institutions.
These packages are designed to provide clean air as per international standards and with reliability for all your medical and surgical applications.
All these systems are delivered with a hassle-free concept to commissioning approach and combines affordability, long life and effective after-sales-service support.
Dint-Tech medical oil-less reciprocating air systems are the most widely installed systems across hospitals and medical institutions in India. Installed systems range from capacities catering to 2 to 50+ ventilators simultaneously.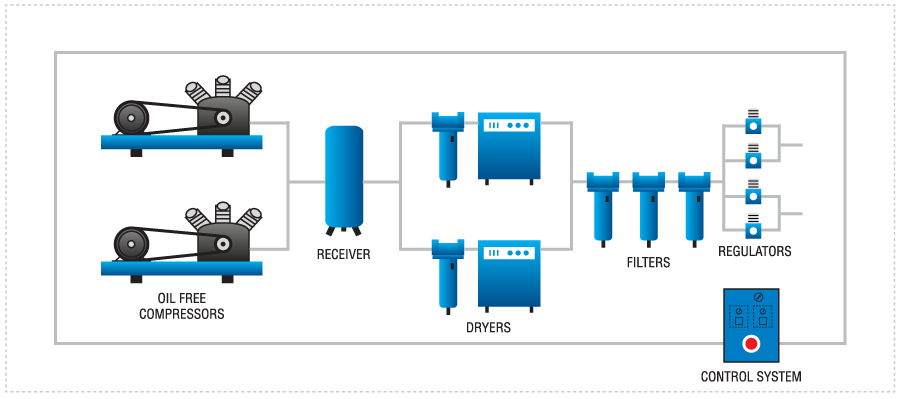 This pictorial representation is only intended to provide general information on the layout of a typical medical compressed air system.
Please click on the product images above to visit individual Product Pages.

The Medical Air System consists of six components:
1. Oil Free Compressors – Medical Air Generation
4. Filters – Contaminants Removal
5. Regulators – Pressure Adjustment
3. Dryers – Moisture Removal
6. Control System – System Management
S.N.
Model
Pressure
Free Flow
Motor
4 bar
7 bar
LPM
CFM
HP
kW
1
M Air – 1
123
4.3
1
0.75
2
M Air – 1.5
246
8.6
1.5
1.1
3
M Air – 2
186
6.6
2
1.5
4
M Air – 3
212
7.5
3
2.2
5
M Air – 5
307
10.9
5
3.7
6
M Air – 7.5
539
19
7.5
5.5
7
M Air – 10
711
25.1
10
7.5
8
M Air – 15
1294
45.7
15
11
9
M Air – 20
1617
57.1
20
15
System capacities are shown as per NFPA - reserve compressor on standby.
Quoted capacities are with refrigeration dryer; free flow with desiccant dryer is 15% less.
Standard receiver capacities: 150, 300, 500, 1000, 2000, 3000 Liters and so on.
Absolutely oil-less design – no oil in the system to ensure guaranteed oil free, medical grade, compressed air output.
Systems and installations adhering to NFPA 99, HTM 20 22, HTM 02-01, ISO 7396 – 1, NABH and other medical, surgical and instrument air standards.
Compressed air quality output as per ISO 8573-1, Class Zero and as demanded by US and European Pharmacopeia.
Modular design – easy scalability.
Redundant system with backup/ standby of every critical component in the system – no need to shut down the system during maintenance.
Pressure based control system for unattended and automatic operation.
Control system takes care of constant monitoring of various parameters of the system to prevent breakdown.
Optional carbon monoxide and dew point sensors and alarms can be easily integrated into the system for added safety.
All components are of air cooled design – no need for cooling water, line, towers, chillers, etc.
Majority of interconnecting pipes and fittings are of copper / SS 304 / brass to prevent corrosion and oxidation.
Oil free, oil less, non lubricated air compressors & compressed air systems for Medical Gas Pipeline Systems (MGPS), particularly:
Breathing air
Medical air
Surgical air
Instrument air
Medical ventilators
Anesthesia machines, workstations
ECMO & ECLS machines
Heart & lung machines
Nebulizers, BiPAPs & CPAPs
Oxygen concentrators
Oxygen generators
Hyper baric oxygen therapy (HBOT) chambers
Extracorporeal shockwave therapy (ESWT)
Radial shockwave therapy (RSWT)
Aspirators
Dialysis machines
Dermatology equipment
Medical air mattresses
Pneumatic surgical tools
Pneumatic orthopedic tools
Medical analytical and diagnostic instruments
Testing medical devices
Drying of endoscopes
Drying Of medical devices
ETO sterilizers
Autoclaves
Central sterile supply departments (CSSDs)
Please get in touch with us with your specific requirement and we shall send you over Detailed Technical Specifications of the system.